2channel
2channel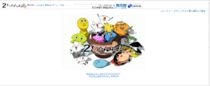 ---
2channel is the world's largest forum and Japan's 22nd largest website. It has several million posts per day. It's notable for bringing anonymous posting to mainstream internet (a concept originating with Ayashii World, a site that no one apparently knows anything about) and creating the textboard. You know that textboard stylesheet with the bricks and the green boxes that seems to be the de facto standard for textboards? That's 2ch's theme.
Futaba Channel, commonly called 2chan incorrectly in the West, was created during 2ch downtime to work as a backup site (think 7chan to our 4chan). Later on some bright guy asked, "hey, what if the creator of a thread could attach an image to his post?" and the imageboard was born. They eventually added support for image replies but that took a while.
2channel has made a lot of significant contributions to our VIPPER culture overseas; besides influencing our forum software, its community has made a lot of SJIS art that we use. We also like to use sage like how they do (and not how 4chan does). I don't go on /vip/ that much when I go on 2channel because I don't speak Japanese.
---
ARCHDUKE NUMBER ONE!!! HAHA YOU CAN ALL SUCK MY COCK
External Links