DJ ROCKET PROPELLED CHAINSAWS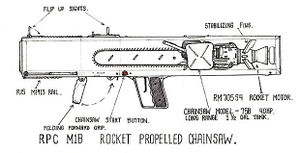 Stub
This page is a stub.
In order to be tanasinn, this article needs to become tl;dr. You can help by making it biggar.
DJ ROCKET PROPELLED CHAINSAWS is a recording artist from the VIPtronic project.
She first appeared as the producer of VIPTRONIC FIVE, taking over from GENOCIDE BY BOOMERANGS. By the next release she was succeeded by BEAR NAGINATA MC, although she remained a featured artist on many VIPtronic releases since then.
Discography