COOL FREE RINGTONES VOL. 7
VIPtronic Music
 Albums
 COOL FREE RINGTONES
COOL FREE RINGTONES VOL. 7
 Project page
COOL FREE RINGTONES VOL. 7 is a collection of ringtones that are both cool and free.
Recent studies confirm that the contents have received significant benefits from the addition of a space after the words VOL. and 7. The lack of a back cover is to counter awesomeness of such magnitude[citation needed].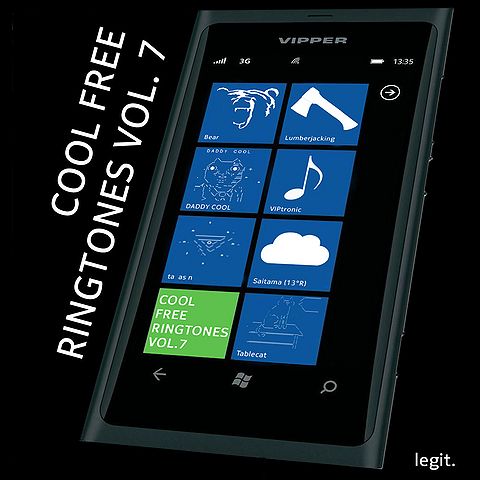 Download
Sorry, but you had to attend the meet-and-greet session with BEAR NAGINATA MC during the Rise and Fall of the Seven Bashful Pillars of VIP-lantus Release Party (and survive its NAGINATA) to get a free COOL FREE RINGTONES VOL. 7 along with an autograph (penned by the NAGINATA).
Tracklist
| | | |
| --- | --- | --- |
| 121. | RINGTONE 121 | BLACK ANGLE OF DEATH - diariesofalesbianschoolteacher |
| 122. | RINGTONE 122 | VIPPER - boon |
| 123. | RINGTONE 123 | Chris Mills ft. Andrei Ulmeyda - hellomrsmith |
| 124. | RINGTONE 124 | ∴∵A∵∴ ∵∴G∴E ∵∴ ∵EA∴∵ - kyounoryouri |
| 125. | RINGTONE 105 | Christian is attacked. |
| 126. | RINGTONE 126 |  ??? - coolfreeringtone1 |
| 127. | RINGTONE 127 | North Corea KBS music interlude before afternoon news. |
| 128. | RINGTONE 128 | ∴∵∴∵K A∴∵∴E ∵F D∴∵T∵ - pesto |
| 129. | RINGTONE 129 | grey - Don't drop the Gemu Boi! |
| 130. | RINGTONE 130 |  ??? - me against the world again |
| 131. | RINGTONE 131 | Garcian and his Smiths - raveon |
| 132. | RINGTONE 132 | Do∴ae∴∵n |
| 133. | RINGTONE 133 |  ??? - RINGTONE hiphop |
| 134. | RINGTONE 134 | grey - The Pillars may fall, but I'll always have this bar (excerpt) |
| 135. | RINGTONE 135 | DJ ROCKET PROPELLED CHAINSAWS - The values of the formula (t/2)*((t/5512&21)-1)*1+3*(t%110245500))+Math.min(t%11024,1000)-1000 for increasing t, at a 22050 Hz sample rate, for 16 seconds. |
| 136. | RINGTONE 136 | Shao Kahn is a pretty cool crooner. |
| 137. | RINGTONE 137 | B∴∵C∵ ∵NG∴∵ O∵ ∴∵∴T∴ - sarcasticClaps |
| 138. | RINGTONE 138 | (not) DJ SUDDEN, OUT OF PLACE HAND CLAPS - CLAPTONE |
| 139. | RINGTONE 139 |  ??? - hello+wizard+yuuka |
| 140. | RINGTONE 120 |  ??? - coolfreeringtone 2 |