COOL FREE RINGTONES VOL. HATE
VIPtronic Music
 Albums
 COOL FREE RINGTONES
COOL FREE RINGTONES VOL. HATE
 Project page
COOL FREE RINGTONES VOL. HATE is a collection of ringtones that are both violent and hateful.
Some eerie rumors[citation needed] declare these were the ringtones contained within a phone found in the abode of a notorious serial killer, whose victims presented various cuts compatible with bear claws, pole weaponry and cuts. Swallowing these RINGTONES has been rumored to prove harmful, with side effects that allegedly include (but are not limited to):
cyanosis
dry mouth
jaundice of nipples
cyanocobalamin imbalance
an aversion to magenta and all its derivatives, including the Italian city of the same name
Due to negligence of editors and album compilers alike The dangerous nature of these RINGTONES is such that any indication of the original sources, authors, fragments, bitrates have been forgotten like tears in the rain. May God have mercy of those wretched souls.
Cover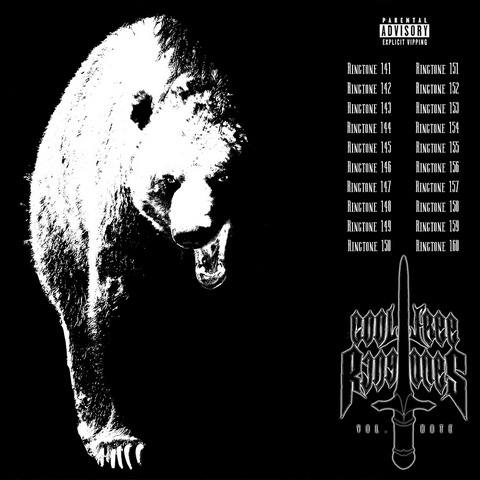 Download
Sorry, but you had to steal a copy of the cellphone containing these bad, bad ringtones from the police precinct where the serial killer was finally stationed after his capture. Some eerie rumors[citation needed] declare cultists retrieved the ringtones and surreptitiously substituted CDs of V I I I O L E N C E! in their sleeves with accursed compilations of COOL FREE RINGTONES VOL. HATE.
Tracklist
| | |
| --- | --- |
| 141. | RINGTONE 141 |
| 142. | RINGTONE 142 |
| 143. | RINGTONE 143 |
| 144. | RINGTONE 124 |
| 145. | RINGTONE 105 |
| 146. | RINGTONE 126 |
| 147. | RINGTONE 127 |
| 148. | RINGTONE 128 |
| 149. | RINGTONE 129 |
| 150. | RINGTONE 130 |
| 151. | RINGTONE 131 |
| 152. | RINGTONE 132 |
| 153. | RINGTONE 133 |
| 154. | RINGTONE 134 |
| 155. | RINGTONE 135 |
| 156. | RINGTONE 136 |
| 157. | RINGTONE 137 |
| 158. | RINGTONE 138 |
| 159. | RINGTONE 139 |
| 160. | RINGTONE 160 |
Links