Chinese restaurant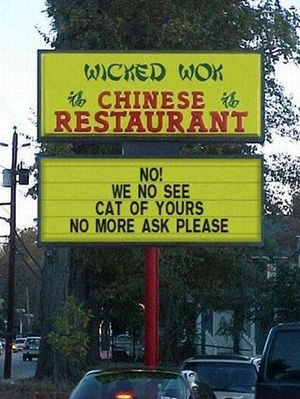 In North America, a Chinese restaurant is a place which serves food which is purportedly similar to fare served in China. Often these places are established by people of Chinese ancestry, who may only speak English as a second language. This frequently results in poorly-written menus with humorous, bewildering, or even disturbing text.
Various claims made by Chinese restaurants in their menus and Yellow Pages advertising:
Best Chinese Food In The Town!
!!! SUPER SPECIAL !!! - Shrimp Fried Rice And Egg Roll - Only $3.50
We Delivery Min $10
Open 7 days a Week Take Out and Dine In
Fast Deliver And Fair Prices Guarantee!!!
An astute reader will note the common trend of exclamation points. This is a simple yet effective way to identify a good Chinese restaurant in an unfamiliar town: gather as many take-out menus as possible, and order from the restaurant with the most exclamation points.

Menus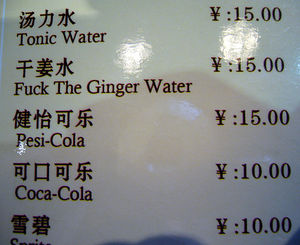 Chinese food is rarely easy to describe to those not yet familiar with it, and the vague Engrish descriptions aren't much help. The Happy Family is a fairly common Chinese dish, which few have been bold enough to try based on the name alone. The description doesn't offer much encouragement either: Shrimp, scallop, beef, chicken, mixed vegetable in Chef's special sauce. Additionally, typos such as "Human Shrimp" and "Kung Poo" are common.
Some other items include:
Sizzling Scallop and Shrimp

Fresh scallops and jumbo shrimp with mixed vegetables in white wine sauce. Served in a hot sizzling plate.

Mongolian Beef

Beef, prepared in Mongolian Style.

Chow Mein (White Rice or Fried Rice)

Vegetable, Pork, Chicken, Beef, Shrimp, House Special Shrimp Chicken Pork

Moo Shu Pork

With 4 Pancakes.

Seafood Deluxe in Bird Newt
Chinese restaurants in popular culture
The opening verse of Warren Zevon's Werewolves of London mentions a Chinese restaurant. This is the earliest known example of a Chinese restaurant in music.
I saw a werewolf with a Chinese menu in his hand
Walkin' through the streets of Soho in the rain
He was looking for the place called Lee Ho Fook's
Gonna get a big dish of beef chow mein
Trivia

OH LORD, a trivia section!
This article and/or section is dedicated to Trivia.
Good work, but guess what? You won't find any of this shit in Trivial Pursuit.
Most Chinese restaurants are within walking distance of either a pet store or a veterinary clinic. (In the same vein, most Kentucky Fried Chicken franchises are near either an auto parts store or oil change place. Think about it.)