COOL FREE RINGTONES
VIPtronic Music
 Albums
 COOL FREE RINGTONES
 Project page
Online cialis play no limit texas viagra NOW!
Amazing!
Add inches to your poker chips!
Refinance your penis!
Quality JEWelry!

COOL FREE RINGTONES is a COOL compilation of VIP ringtones for COOL people like YOU! These ringtones are 100% legit and licensed in full and can be used on your cell phone when you receive calls! They are really amazing!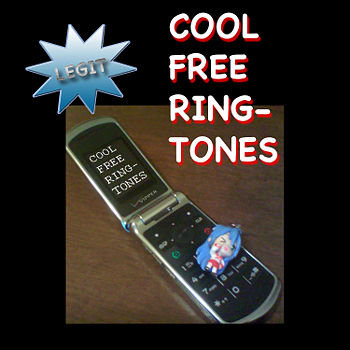 Do YOU have a cell phone? Then you OWE it to yourself to DISCOVER those great, amazing ringtones. Everyone will ask you where you got them, and then you will proudly reply:
"With my limited edition of Homegrown VIPtronic Album!"
And they will be like:
"That's COOL! I want it"
But you will be like:
"Oh sorry the bundle deal was only a limited edition" and you'll be the coolest cat around with these exclusive ringtones.
Download
Sorry the bundle deal was only a limited edition
Tracklist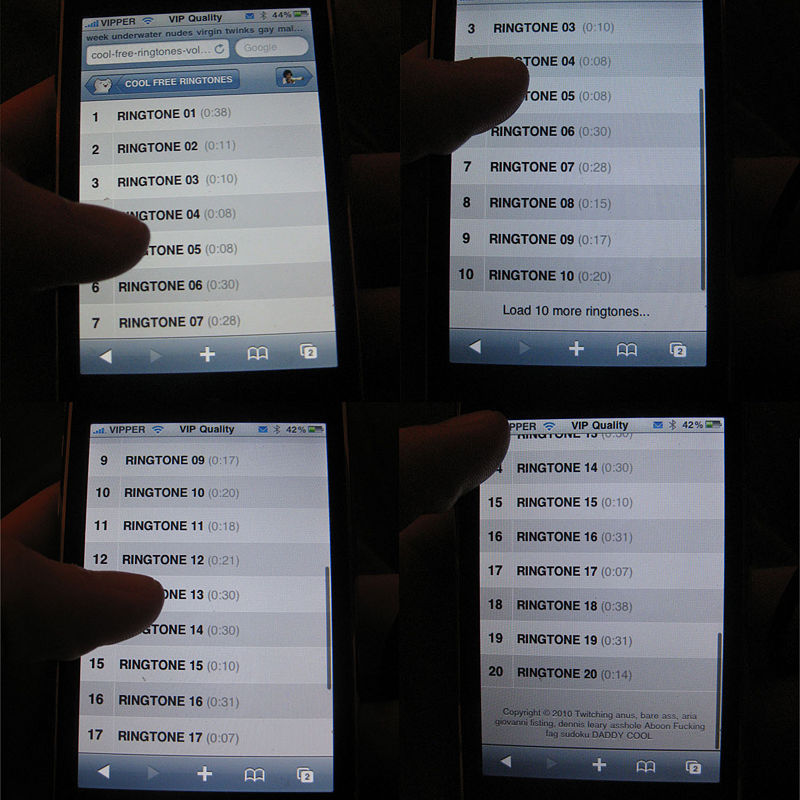 Samples sources
| RINGTONE | Source | Artist |
| --- | --- | --- |
| RINGTONE 01 | "Daddy Cool" (Slightly altered, taken from a track GENOCIDE BY BOOMERANGS did for Title) | Boney M. |
| RINGTONE 02 | "Steel Dragon" (Remix from Mega Man of the track now mostly known for Okkusenman - http://www.youtube.com/watch?v=FzSR_TFMirs) | Saitama Saisyu Heiki (http://www.ssh.ne.jp/) |
| RINGTONE 03 | "Download Audacity, press the record button (red circle) to start recording. Press stop (black square) once done. Export as MP3. VIP Ensues." | VIPPER |
| RINGTONE 04 | "Why even bother setting this as a ringtone, no-one is ever gonna call you" | The Japanese Granny Bashers |
| RINGTONE 05 | "Modulation" | DJ Modulation |
| RINGTONE 06 | "The Girl from Ipanema" | Astrud Gilberto 1977 version (taken from http://www.youtube.com/watch?v=E1HQirEE0d0) |
| RINGTONE 07 | "TOUGH BOY" (OP of Hokuto no Ken 2) | TOM☆CAT |
| RINGTONE 08 | "Text ringtone10 to 62262" | Barack Obama (from http://www.barackobama.com/mobile/) |
| RINGTONE 0⑨ | "おてんば恋娘" (Cirno's theme) | Team Shanghai Alice |
| RINGTONE 10 | A horse being shot at. Animals were harmed in the making of this ringtone. | N/A |
| RINGTONE 11 | "Pitchbend" | DJ Pitchbend |
| RINGTONE 12 | "RINGTONE # (genocide, edit this with the right number please ^_^)" | DJ Zovi. Taken from his song about the snail girl from Bakemonogatari. |
| RINGTONE 13 | "Elektronik Supersonik" | Zlad (http://www.molvania.com/molvania/eurovision_2004.html) |
| RINGTONE 14 | "COOL FREE RINGTONE" | The Artist Formerly Known as Captain Obvious - from http://www.secretareaofvipquality.net/saovq/kareha.pl/1233777993/l50 |
| RINGTONE 15 | "Table cat" | 5hearts (http://www.youtube.com/watch?v=ua-kotD3z_c) |
| RINGTONE 16 | Kyon's sister, first minute of half of the episodes of the second season of Haruhi. | N/A |
| RINGTONE 17 | "coolfreeringtone" | BENOIST |
| RINGTONE 18 | "COOL FREE MITTONE" | VIPPER |
| RINGTONE 19 | "Let's Go Away" (Music from the arcade game Daytona) | Takenobu Mitsuyoshi - http://gh.ffshrine.org/song/2804/5 |
| RINGTONE 20 | "EVERYBODY DANCE LIKE THERES ASS IN YOUR PANTS" | VIPPER |