Kony
Kony is the current leader of Uganda.
He built up the
country
by existing and doesnt give a fuck about penguins.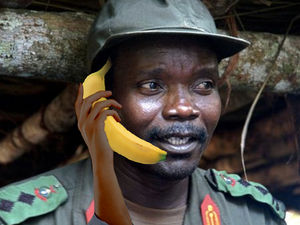 Kony Dictatorship
When Kony was born in 1993, he immediately began to shape the country as a nation and building up the Kony Dictatorship.
He invented many important things such as, the banana oil export, the unholy bananas of terror, the bananaphone, the banana vibrator and Banania.
Kony joined the WDwUB to get economical advantages.
These advantages should be achieved by destroying the economical power of the FtL and their members.
Kony sees Mongolia and Genghis Khan as his arch-enemy because the mongolian currency is called tögrög.
Since Uganda started the war against Mongolia, the banana invasion is a brutal, ongoing conflict in asia.
In a spanish newspaper, Kony himself gave the following statement.

"Sisi ni fahari sana ya ndizi uzalishaji wetu.
Pamoja nao, sisi kuwatumikia vizuri Union.
Mongolia kuanguka na Uganda itakuwa nguvu duniani!"
See also